I made this dress about 1 year ago to wear to a good friends wedding. This dress was almost never made! I saw this pattern, Vogue 1178, when it first came out and completely passed over it. The picture of the model and the dress does not appeal to me at all. But later on I saw the line drawing and realized what an adorable dress it was! Plus it doesn't hurt that it is an Anna Sui design...she designs amazing clothes!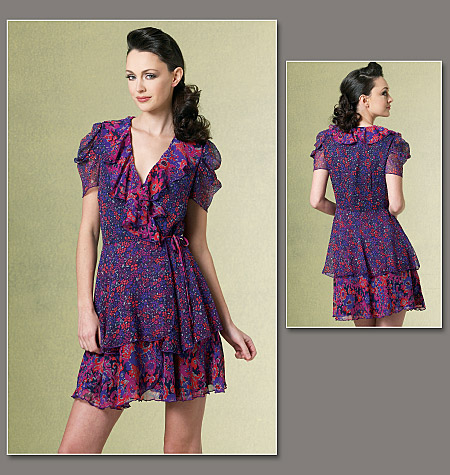 I immediately bought some Amity style fabric... (Halloween colors see?) and got to work. I used polyester chiffon for the top layer and the ruffle layer. The polka dot one I got on ebay and the black chiffon has black sequin type things...more like large sparkly dots periodically and I got that at Joann's. I also used my favorite polyester lining...it does not feel silky it feels more like a georgette. I love the feel of this kind of lining vs the slippery satiny feel of linings for jackets and things. I think each type of lining has its place. I like this polyester/georgette feeling kind for directly against my skin.
This pattern was rated average and I believe it was done so because of the tricky type of fabric you are supposed to use and the miles and miles of teeny tiny little hems. Um...no. I was not about to do that. I used my serger for the majority of the construction. I did rolled hems on everything I could. I used this gorgeous serger thread from
Superior Threads
called
Halo
. The two colors I used were Snowfall and Jet Black Silver.
With this method, construction was easy. There is one thing to note though. I guess I never noticed the weirdness of the sleeves in the picture. When I made up the sleeves and tried them on, I thought at first I had done something wrong because they looked so odd! But a careful glance at the cover photo shows that the dress has those weirdly poofy and tucked sleeves. So I went with it. A lot of the reviewers were in love with the sleeves...if I made this again I would probably just used a traditional gathered sleeve instead of doing all the tucks that gave it kind of a weird shape when it was on. One other change I would make is to the front wrap piece. If you look above at the line drawing, you can see how the edge is rounded at the bottom of the piece that wraps over the top. It lays unevenly on me and I would square that off if I made it again so it would lay flat instead of pulling to the left slightly. All in all, the pattern was much easier than I would have anticipated.
close up of weird sleeves.....isn't my husband the most handsome man ever??? <3
As far as fitting goes, I had to take in the bodice 1 1/4 inches on each side. And as a result I took some tiny tucks in the skirt to make it fit the new bodice size. That was the only change I made. There was no gapping problems or anything else. Pretty lucky huh? I used silk thread for the construction but in hindsight, it made it made it more difficult to sew and more puckers were occurring. Half way through I grabbed Sandra Betzina's More Fabric Savvy and learned I should be using polyester thread to sew chiffon to avoid puckers. Oops....so keep that in mind readers!
Here is an in person shots....sorry about the weird angle. It is one of the few full length pictures I have from that wedding.


Me and my adorable husband