What a fitting day for a Wedding Wednesday post! What to wear for your wedding dress at a Halloween wedding??? Many people would assume you should wear black, or a costume. And both of those are great ideas! But let me tell you, there is no market out there for Halloween wedding dresses...and I looked...and looked...and looked! Of course, I could have made my wedding dress...being that I am a
sewasaurus rex
. However, I did not want that kind of pressure on myself since I was already DIYing so much of the wedding. I will show you some of the ones I found when I was looking and what I wore, and then you all can chime in in the comments if you find other great ones!
First off, for my wedding, the plan was to do a traditional wedding with Halloween accents. It may sound silly, but the idea was to make it just like a regular wedding...and then add a spooky twist. Therefore, we were still planning on dressing up as bride and groom. Those were our costumes...since all our guests were in costume as well.
spiderweb dress
This was my original choice of dress...but I had it custom made in white, added cap sleeves, and asked for the spiderweb beading to continue all the way to the bottom of the dress. I ordered the first week of May with my custom measurements and paid. However, these people are very bad at responding. And then my dress was never arriving. Next thing you know, it is the first week of October (my wedding was the 29th) and no dress still. My coordinators found websites showing numerous customers who ordered from this site and never received their dress, etc. It was looking bad. Yikes!
DO NOT ORDER FROM GOTHIQUE BRIDAL BOUTIQUE IN THE UK!!!
(I just looked on the website and it now says it can take up to 25 weeks for custom orders--when I ordered last year it said 14 weeks...which was well within my time limit--furthermore both myself and my coordinators sent numerous emails and made many phone calls to try and find out what was going on...with no response!)
Needless to say, we were all panicking. I found this rental company called
One Night Affair
, and went there to see if I could find a dress for near immediate rental. Luckily I found one that was gorgeous! And the beauty of renting the dress was that I could never have afforded such a gorgeous dress as that. I think the retail on the gown I ended up wearing was close to $7,000. I picked out the dress and had the alterations decided and ready to go before I left knowing I would pick it up two days before the wedding.
custom spiderweb dress
The next day, (October 14th!!) of course the gothique bridal boutique dress arrived. The incessant phone calls and emails must have finally had some effect. But it was too late, I had already rented the other one...and to be fair, it was gorgeous, I loved it, and I made the right decision. However, if I had not had any problems with the dress delivery or vendor, I would have been ecstatic at how well the spiderweb dress fit me and looked...you can see for yourself to the right.
You cannot see the spiderweb detailing but it does go all the way to the ground as my custom order specified. And the dress fits for the most part...I probably would have needed a hem. Regardless, it is not the dress I wore. What am I going to do with the dress to the right??
The dress I did wear was like Cinderella fairy tale princess.
dress I actually wore--rental
closeup of beaded bodice and skirt
hanger shot
I love love loved my dress!!! However, I must be honest. When I saw Olivia Wilde in this dress, I thought it would have been perfect for my wedding.
It is the black version of my actual wedding dress!!!!!! It is EXACTLY like it...beading all the way down. How awesome would that dress have been? It's exactly the one I wore...but black...incredible.
Ok enough about my story and my dress...what about inspiration for yourself??
How amazing would this parasol be as an accessory?
This is very fun!
wow..super gothic...very Helena Bonham Carter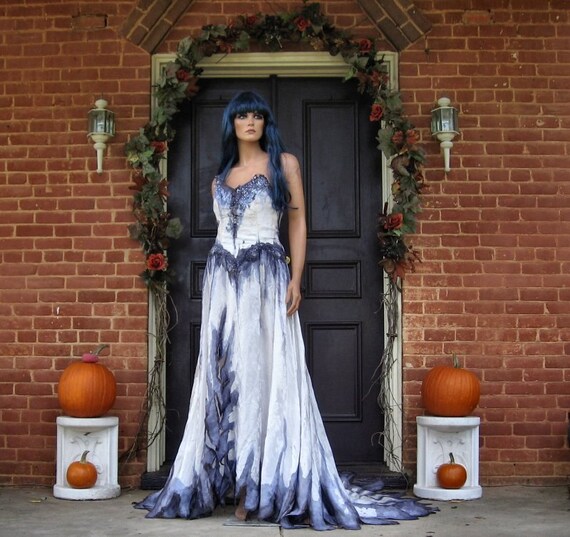 This is on etsy...click picture for source
This would be so pretty! Click for source
Another gothic idea
What other ideas do you all have??? Did you have a Halloween wedding dress?? Can we see a picture?